Monthly Archives:
July 2012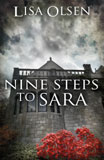 Once again it's time to share who I would cast in a movie version of my lastest book, Nine Steps to Sara.

I've got every role cast down to the cook's assistant, but I'll try to just hit the main characters or it'll stretch on forever!







Sara Darling: Liv Tyler – She has such a sweet, open smile, I could really picture her as a caring mom who's open to new things from staying at a haunted house to giving love another chance.




Jackson Darling: Kieran Culkin – He was such a cutie as a little boy, and I can see him delivering some of the precocious things Jack says.





Will Talbot: Jake Gyllenhaal – Okay, I know I might catch a little flack for this, not casting a Brit for this role, but when I was thinking about what Will looked like, I kept coming back to this little half smile Jake has. That cinched it for me, plus I could see him relating to both Sara and Jack alike.



Joanie Wilson: Emma Stone – Can I just say that I love Emma Stone, and I don't really think of her as a bitch at all. But I think she could handle some of Joanie's bitchier moments while bringing the humor.




Mrs. Poole: Maggie Smith – I actually started with a completely different actress in mind for this role, but about two chapters in, I realized I was picturing Maggie in my head whenever she spoke.




Thomas Poole: John Hurt – Love this actor, he has such great range!






Hugh Cole: Rufus Sewell – So good at playing as asshole! And I could really see Joanie being taken with him despite his asshattery.





Gemma Darling: Gemma Arterton – I had her in mind before I picked a name, and ended up just going with it. I can see her as being both ethereal and spooky as well as breathing real life into the dead character.




Katie: Felicity Jones – Such a fresh faced beauty. She deserves her own book really, but I thought she captured Katie's wide eyed innocence particularly well.




Pottinger: Christopher Plummer – I knew I wanted a kooky old man character, and I have always loved the way he looked as "Shitty" in Where the Heart Is. I couldn't find a picture from that obscure movie, but I think this one is nearly scruffy enough.