Monthly Archives:
April 2014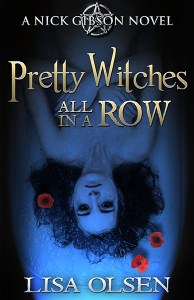 The votes are in and it looks like the next book I'll be working on will be the sequel to Pretty Witches All in a Row. It'll be another stand alone book (no cliffhangers at all) and it won't be necessary to have read Pretty Witches first, but it will certainly enhance the story if you already know the characters. The Captain has been hard at work on a new cover for Pretty Witches and I love how it came out! What do you guys think?
Also, a quick reminder that the fan fiction contest ends on April 30th. I've got two entries so far!
Also, also… Release Me When the Sun Goes Down is doing great on the Amazon Hot New Releases list, currently #9 in occult. Not too bad for a book that's not out yet! Release day is May 15th, but you can pre-order your copy from Amazon here.