Monthly Archives:
April 2011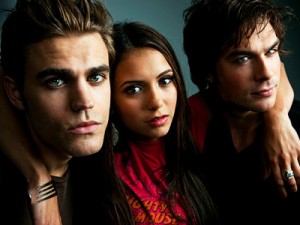 Episode 2.18 – "The Last Dance"
Klaus in Alaric's body is getting a crash course on Alaric's life from Katherine while he looks for something to wear out of his limited wardrobe.  Katherine pleads with him to kill her and spare her the torture, but he's not done with her yet.  He searched for her for over five hundred years and her death is going to last at least half that long if he gets his wish.  Before he leaves, he compels her to stab her own leg with a knife over and over again.  The wounds heal quickly, but still cause her considerable pain and blood loss.  The torture begins!
Elena officially signs the papers that give her ownership of the Salvatore boarding house.  She invites Stephan in right away but makes Damon promise to obey her and he does so reluctantly (why do I not believe him?).  But just as soon as she secures her safety, she and Bonnie leave to go to school despite Damon and Stephan's protests that they didn't give her a safe house so she could leave it.  Bonnie promises to stick by her side and since she's the best weapon they have against Klaus, they agree to let her go. 
Klaus has a little trouble fitting into Alaric's life when it comes to teaching about the 60's.  All he can say about them is that they kind of sucked except for the Beatles.  Unfortunately we only get to watch him flounder his way through it for a few minutes before we're shown the preparations for the dance.  Jeremy continues to push Bonnie to tell the others that it could kill her to harness the power of the other witches but she won't budge.  He leaves in a snit once Elena arrives in the cafeteria.  Random girl we've never seen before this episode shows up to tell Elena that a totally hot guy named Klaus asked if she's going to the dance tonight and if she'll save him the last dance. Bonnie and Elena look suitably freaked out, but the girl doesn't seem to notice. 
Damon and Stefan plan to go to the dance to try and spot Klaus and keep Elena safe.  In the midst of making plans with Elena and Bonnie, "Alaric" shows up, proving that Klaus needs no invitation to enter the house while in his body.  He learns that Bonnie not only has her powers but is capable of channeling the power of the witches.  There's also a live demonstration when she easily bats down a surprise attack from Damon who wants to test how strong she is.  So much for the secret weapon!