Current Projects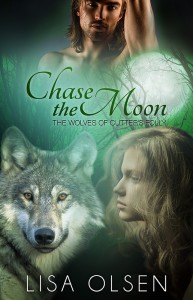 I've just published my 30th book, Chase the Moon book 3 of the Wolves of Cutter's Folly.
As Beta for the Cutter's Folly pack, it's up to Chase LaRoche to find the rogue shifter that's leaving a trail of dead bodies to their back door. Imagine his surprise when he finds a hunter camped out, already on the job? And not just a hunter, but a Hunter, the kind that targets the supernatural. Tagging along with her is probably the dumbest thing he can do. Can he keep what he is a secret? And can he keep from wanting to devour her himself?
Emma Hale thinks she knows all about werewolves. She learned how to track almost before she could walk. Hanging out at the mall, friendships, the prom – none of those things mattered, because she accepted her father's word that ridding the world of werewolves is her true calling. When she stumbles across Chase in the woods, naked and caught in one of her traps, it never occurs to her to fear him. He's too charming to be the rogue wolf she's after. But she might just be in danger of losing her heart.
*** Chase the Moon is a shifter paranormal romance with steamy sex and violence, and should not be read by those under 18. It can be read as a stand alone book, or as part of The Wolves of Cutter's Folly, and has a HEA. ***
I'm currently working on the next book in the Forged Bloodlines series.