The Company Series
The Company of Shadows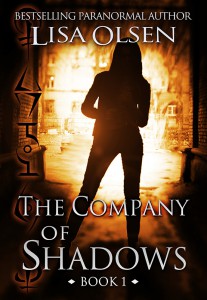 Cady Garrett can't help but be shaken when next door neighbor, Ethan, shows up in the nick of time to save her from a ruthless killer, spouting mumbo jumbo. Even more disturbed when the killer slits his own throat to escape Ethan after a vicious struggle. Curiously, Ethan insists on leaving before the dead killer returns, even though he can barely stand on his feet. Nursing him back to health, Cady is drawn into a world of half truths and mysteries, where shadows hide more than the seedy underbelly of San Francisco's Tenderloin district. She has become the obsession of a darker power, and no one, not even Ethan, can keep her safe from his twisted desires.
This one started out as a stand alone book, but it's turned out to be the first in a new series. The next one will be coming later this year. It's about a demon hunter and his too-curious-for-her-own-good neighbor. It's got sexy demons, magic, a brooding hero with a dark secret, intrigue, body switching, mythology, tattoos, cheese whiz, you name it.
The Company of Shadows is available for sale on Amazon as an ebook and in paperback. It is also available on Barnes and Noble.
Check out the Dreamcasting for The Company of Shadows here
Read a character interview with main character Cady
Read a character interview with main character Ethan
---
The Company of Darkness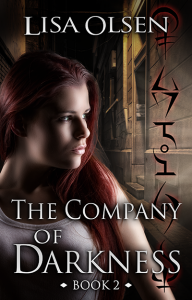 Cady and Ethan beat the bad guy and saved the day… or did they? Cady has been touched by evil, polluted by unbound demon blood, will she ever truly be the same? Asherik the demon is bound but not destroyed, and Ethan's moods have taken on a distinctly darker turn since absorbing his power. Detective Lucas hasn't left his investigation behind either, and Cady will have to use all of her wiles to throw him off the scent for his own safety. And then there's The Company – how much will Cady come to regret showing up on their radar? There's no mistaking Rikard's interest, but does it stem from duty or something more personal?
In a world where demons thrive in shadows, preying on the innocent, there is one organization that stands against the enemy in the darkness. But what happens when The Company tasked with our salvation becomes corrupt with its own darkness?
The Company of Darkness is available for sale on Amazon as an ebook. It is also available on Barnes and Noble.
---
The Company of Lies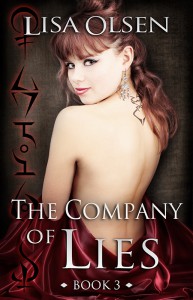 Cady and Ethan are on the run from the Company, but there's no escaping the trouble they brought with them. The demon Cady was bound with isn't as dormant as they first thought, and it's desperate to be free. How many times will Cady have to wake up in strange circumstances before she realizes her life isn't her own? Crippled without his usual contacts, Ethan is desperate to hold onto Cady and find the help she needs – but is it enough? Is Rikard the one who can keep Cady safe and satisfy the demon inside her? Layer upon layer of deceit muddy the waters until it's impossible to find the right path. In the end, Cady is left with a terrible choice – submit to the Company or the demon who's taken over her life.
The Company of Darkness is available at Amazon, Barnes & Noble, iTunes, and Kobo.
---
The Company of Death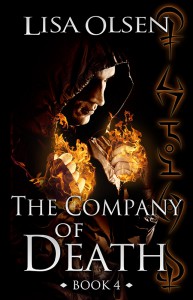 Working side by side with Ethan for the Company, access to magic and developing her own skills as an Adept – Cady should have everything she's ever wanted, right? But can she trust Ethan when Beau won't stay buried in the past? When a freak accident releases four demons, including the one she shares an intimate connection with, Cady must rely on her new training to fight the good fight when Ethan's loyalty is called into question. With the threat of Ash on the horizon, Rikard is more than eager to lend a hand – and any other part of his anatomy. Who will Cady choose to fight by her side, and who will she keep in her heart?
The Company of Death is available at Amazon, iTunes, and Kobo.