Monthly Archives:
June 2012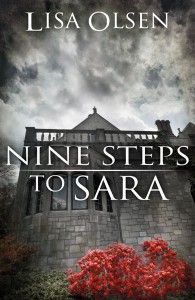 My new ghosty thriller Nine Steps to Sara is now available for sale on Amazon.com
and BarnesAndNoble.com! It's out as an e-book for $3.99 but you don't have to have a Kindle or Nook to read it, they have free downloadable apps so you can read it on your PC, or even your phone. It'll be available in print as well in a couple of weeks through Amazon.
---
When single mom Sara Darling inherits an estate in the remote English countryside, she jumps at the chance to become Lady of the Manor. With 8 year old son Jack and best friend Joanie in tow, they explore the nearly deserted mansion, isolated from the rest of the world except for the nearby village where everybody seems to know her business. Distracted by the charming chauffeur, Will, soon Sara never wants to leave her newfound home.
But the eerie manor house is hiding more than a ruined garden and plumbing issues, and it's up to Sara to find out what the loyal staff isn't telling. When Sara finds Jack talking to an empty room, she begins to wonder if she made the right decision uprooting her tiny family as the spooky surroundings fuel her imagination.
Especially when she starts to hear the voice talk back.
Is her ancestor's unnatural attachment to Jack borne of concern or something more sinister? When she discovers the truth, will Sara accept the legacy she's inherited, or run for her life?
---
I'm just about ready to start writing on the next book Meet Me When the Sun Goes Down, the next in my vampire series Forged bloodlines.