Monthly Archives:
July 2013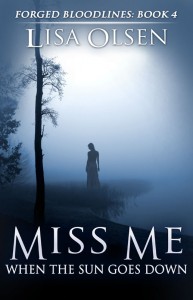 Hi Guys! I am off and running with Follow Me When the Sun Goes Down, but I thought you might like a little taste of Miss Me for those of you who haven't picked it up yet. This takes place at Anja's parents' place for Thanksgiving Dinner.
---
The whole time I descended the stairs I recited a feverish plea to the gods to let it be someone else standing on the other side of the door, but there Jakob stood, larger than life, dressed in an elegant gray suit and topcoat. "What are you doing here?" I hissed, stepping out beside him and pulling the door closed behind me.
"I'm embracing human customs. Isn't that what you asked for?" he beamed, too pleased with himself for his own good. "You look lovely as always, petal."
"I didn't mean here! Those are my parents inside."
"Exactly the reason I've come. I know my duty."
"Your duty?" Why did that make the hairs on the back of my head stand at attention? What was he up to?
"Anja?" My father pulled the door out of my hand, his eyes settling expectantly on me with his best what the heck is going on look.
"Daddy, this is Jake. He's my, um…"
"Lover," Jake supplied glibly, an easy smile on his face as if he'd remarked upon the weather.
I stared at him stupidly, sputtering on the inside before I could make the words tumble out. "I am not! We've never… Daddy, I swear he's not my…" I couldn't even say the word.
"We haven't shared certain physical intimacies, but make no mistake, I intend to make you mine in all ways." The man had no shame in such a public declaration in front of my father, of all people.
Oh no… I wanted to crawl into a hole and pull the dirt in after me when I saw the bulge of my father's eyes. "Daddy, I…"
"All is well, petal. Your father is a man of the world, he understands such things well enough," Jakob declared confidently, clapping him on the shoulder. "I've brought surety so there will be no doubt my intentions are honorable."
The mind boggled.
"Perhaps we'd better bring this inside." My father suggested after an uncomfortable silence, turning to go up the stairs to the main living area.
"I couldn't agree more." Jakob snapped his fingers, and Gunnar and Isak appeared at the end of the walk, arms laden with packages.
"What is that stuff?" I whispered.
"Is it not customary to bring gifts?"
"That's Christmas, not Thanksgiving."
"Ah, forgive me the blunder. I mean to pay my respects to your family."