Monthly Archives:
September 2010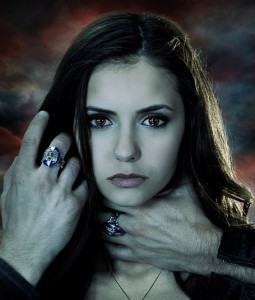 Episode 2.3 – "Bad Moon Rising"
There's a lot of skipping around in this episode, so I'm gonna try to condense the scenes together by shared characters, see if that flows a little better.
The return of Alaric!  He's looking a little scruffy and what's going on with his hair?  Still I'm so glad to see him back in action I'll go with it.  Ric looks none too happy to be at the Gilbert place, but agrees to help them get some research on werewolves from Isobel's old office.  Damon's a little skeptical about the existence of werewolves, but in the interest of not being totally screwed, he wants to find out if that's what they're up against. 
It turns out that Elena, Alaric and Damon will be going on the road trip to Duke for Isobel's research, and not Stefan.  Stefan seems to be okay with this and I almost wish we would have seen a little threat from him to Damon to behave or keep his mitts off his woman or something.  Ah well.  Elena seems pretty moody from the get go in this episode, vowing to bond with Alaric in their anti-Damon solidarity. 
Before they get on the road we get to see what's happened between Ric and Jenna.  Apparently they've drifted apart over the summer and Jenna's trying to be cool about it when it's obvious she's miffed over it.  Alaric tries to pull that "sorry things have been stop and start for us but maybe…" line where he gives her some hope even when he's clearly still conflicted about moving on but Jenna calls him on it.  "Do what you need to do."  She says.  Basically, call me when you get your shit together.
About to leave, Elena deliberately gives Stefan a long, lingering kiss, obviously designed to make Damon jealous and Damon's expressive face is a treat to watch.