Monthly Archives:
April 2013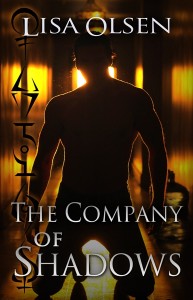 My new book is out! The Company of Shadows is now available for sale on Amazon! It should be up at Barnes and Noble in a day or so, their process is a little slower. It's out as an e-book for $3.99 but you don't have to have a Kindle or Nook to read it, they have free downloadable apps so you can read it on your PC, or even your phone. It'll be available in print as well in a few weeks through Amazon.
This one started out as a stand alone book, but it's turned out to be the first in a new series. The next one will be coming later this year. It's about a demon hunter and his too-curious-for-her-own-good neighbor. It's got sexy demons, magic, a brooding hero with a dark secret, intrigue, body switching, mythology, tattoos, cheese whiz, you name it. Here's the sitch:
Cady Garrett can't help but be shaken when next door neighbor, Ethan, shows up in the nick of time to save her from a ruthless killer, spouting mumbo jumbo. Even more disturbed when the killer slits his own throat to escape Ethan after a vicious struggle. Curiously, Ethan insists on leaving before the dead killer returns, even though he can barely stand on his feet. Nursing him back to health, Cady is drawn into a world of half truths and mysteries, where shadows hide more than the seedy underbelly of San Francisco's Tenderloin district. She has become the obsession of a darker power, and no one, not even Ethan, can keep her safe from his twisted desires.
I'm already working on the next in my Forged Bloodlines vampire series, Miss Me When the Sun Goes Down, but it'll be slower going since we just sold our house, and I'll be knee deep in packing and coordinating stuff for the next couple of months.
Stay tuned for some dream casting, and a sneak peek of what Anja will be up to next!