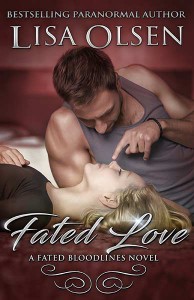 Fated Love, the 1st book in the Fated Bloodlines series is here! The print book is still being formatted, but here are the links for the ebooks:
Amazon US: http://amzn.to/2FMmzoE
Amazon UK: http://amzn.to/2Gqu1E4
Barnes & Noble: https://tinyurl.com/yazrovzn
iTunes: https://apple.co/2FEVO29
Could you give up the one you love to save their life?
Thanks to Anja's knowledge of events to come, Mason knows bringing Hanna into vampire society will cause her heartache and pain. Can he sacrifice his own happiness to keep her safe and whole? Or are some things fated to be?
This series continues after Know Me When the Sun Goes Down. If you haven't read that one (or all of the previous Forged Bloodlines series), stop and go back and read those first. Otherwise this book won't make as much sense or the stakes won't be nearly so high. This book belongs primarily to Hanna and Mason, but there are a couple of chapters from Anja's POV, I couldn't resist giving you a little window into what's going on with them next.
Next up… I actually have no idea what I'll be working on next. Sound off in the comments with which series or book you'd like to see next!