Monthly Archives:
June 2013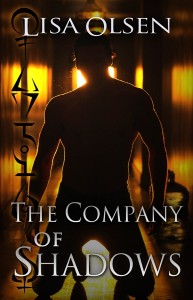 We finally got The Company of Shadows approved for print! So, for all you out there who prefer to hold the physical book in your hands (and it is pretty!), you can buy it on Amazon.com here.
This one started out as a stand alone book, but it's turned out to be the first in a new series. The next one will be coming later this year. It's about a demon hunter and his too-curious-for-her-own-good neighbor. It's got sexy demons, magic, a brooding hero with a dark secret, intrigue, body switching, mythology, tattoos, cheese whiz, you name it. Here's a taste:
---
In general, Cady didn't have trouble talking to guys. Outgoing by nature, she figured the worst that could happen was he could tell her to F off, and she could at least say she'd tried. Still, she hadn't approached a total stranger like that before, usually there was some other pretense that had her offering the first words. Something like… I love your jacket, do you ride a motorcycle? But what could she say to this guy? He looked like he was dressed from Salvation Army castoffs.
"Hi, I don't think I've seen you in here before," Cady approached, smiling past the inner cringe at the lamest pick up line ever.
"No, thank you."
Not what she'd expected to hear. "I wasn't offering anything." A furrow appeared on her brow, he hadn't even looked at her.
"It's just a general no, thank you." He offered the barest of smiles before returning his eyes to the crowd. "I'm not here to pick up girls."
"Oh, are you into guys?" Cady sat beside him, the brief smile and oddly polite rejection piquing her curiosity. He didn't outwardly object to her taking a seat, but he didn't look thrilled about it either.
"I'm not here to pick up anybody," he growled, letting out a sigh that could have meant anything from a deep heartache to indigestion. "So, go try someone else."
Cady's eyes darted back to her table to get a thumbs up and an encouraging grin from Penny. Kelli was already making eyes at the mad dancer she'd spotted before. "I'm not trying to pick you up either."