Category Archives:
Vampire Diaries Recap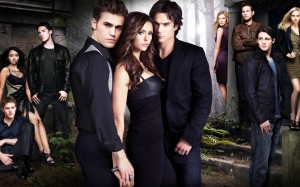 Episode 2.17 – "Know Thy Enemy"
And we're back!  After a crazy 6 week hiatus, I spent most of the day in giddy anticipation and the show definitely did not disappoint!  The episode was chockablock with "holy crap!" moments, so let's dive right in, shall we?
Elena keeps Jenna from inviting Isobel into the house, but the damage is done when Isobel comes out swinging with "So you're the woman dating my husband."  Poor Jenna!  She looks like she's having a Twin Peaks experience.  Elena slams the door in Isobel's face, but Jenna is devastated that everyone but her knew that Ric's wife was still alive.  Locking herself in the bedroom, Jenna refuses to talk to anyone, looking like she's having a panic attack. 
Alaric shows up to try to talk to Jenna, but she's already packed a bag, planning on staying at the University since she has a thesis to write and doesn't want to stay in the house on the count of all the rage and betrayal she's feeling at the moment.  Jenna leaves, telling them she just doesn't have it in her to listen to any more of their lies.  John shows up, is pretty much a jerk so Alaric gets in a good solid punch to his jaw and it couldn't have happened to a nicer guy. 
At casa de Salvatore, Stefan is about to go see Elena and try to figure out what Isobel wanted, when Katherine (with lots of curly hair this ep) suggests that they might not want to mention to Isobel that she's in town if they happen to run into her.  Besides, it'll work better if they need her to swap places with Elena again if fewer people know she's around.   
Poor Elena is freaking out with the idea that Jenna is about to find out what's really going on, and Matt is MIA after having found out.  Just when she can't feel any more powerless in her own home, John comes in to talk to her, after having invited Isobel in against her wishes.  He begs her and Stefan to listen to what she has to say, feeling that they can trust her.  Isobel tells them that she's been doing everything she can to try and find Klaus.  While she hasn't been able to find him, there are rumors going around that there is a doppelganger out there and Elena's in more danger than ever, as vampires looking to gain favor with Klaus will come after her.  Isobel offers to take Elena to a safehouse with a deed in Elena's name, leaving out the part where THIS IS ALL A HUGE TRAP!  Luckily, Elena isn't buying it, and tells her to get the hell out of her house. 
Isobel doesn't sulk for very long, leaving them behind to hole up in her new place; the nicest foreclosure in town.  In a nice "holy crap!" moment, Katherine shows up and after a little playful tussle, they embrace as friends.  Okay that's gotta be creepy for Isobel to be huggy friends with an old vampire that looks exactly like her daughter who she doesn't give a damn about.  I'm just saying.  Anyway, Isobel says that she's been busy making a deal with Klaus to keep Katherine safe by delivering the moonstone and Elena.  The only reason that Isobel even went to Elena's house was to see Jenna because she got jealous that Ric was dating "Auntie Vanilla".  If Katherine can get the moonstone, Isobel will deliver both to one of Klaus' witches who has negotiated Katherine's freedom.