Child of Mercy is available online!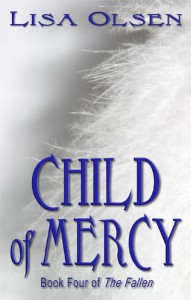 The next book in The Fallen series, Child of Mercy is now available for sale on Amazon and Barnes and Noble! It's out as an e-book for $3.99 but you don't have to have a Kindle or Nook to read it, they have free downloadable apps so you can read it on your PC, or even your phone. It'll be available in print as well in a couple of weeks through Amazon.
---
"Have you ever gone to sleep one night and woken up and it's two months later? Okay, not literally, but I swear it felt like two months went by in the blink of an eye. Still no word from Adam, but each day got easier to accept his absence, and I started to believe he might never come home. I started to think… maybe I didn't want him to anymore."
Child of Mercy continues the saga of angels and demons in Book IV of The Fallen. Left to raise a child on her own, Mercy contends with normal pregnancy woes, and a slew of dangers as new enemies and old vie for a piece of the child. Her heavenly cousins don't seem all that pleased with her impending motherhood either, and Mercy needs all the help she can get to keep her baby safe. Luckily, she has friends and family around to help out (a little too much family if you ask Mercy), especially Parker who is more than happy to fill Adam's vacant shoes. The question remains – will Adam stay away? And more importantly, if he waits too long, will Mercy want him to?
---
I'm taking a little bit of a break before starting my next in the Forged Bloodlines series, Find Me When the Sun Goes Down. I can't wait to get back to Anja and Bishop and I hope to have it out by Spring of 2013