Cover reveal for Scarlett Moon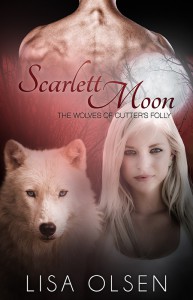 Here it is, the cover for Scarlett Moon, the second book in The Wolves of Cutter's Folly. I'm shooting for a release date of 10/15/15.
I'm not hiding who I am. Well, I'm hiding what I am, because you don't just say Hey, everybody, I'm Scarlett and I'm a shifter at the first mixer. All I want is the chance to go to college with normal people and lead a normal life for a change, maybe even meet a normal guy. I've just been too chicken to go after it until now.
I'm making friends, I even met a cute guy who seems into me. Everything's working out like I'd hoped. Except for this other guy, Kane, who thinks he has to protect me, just because we're both wolves. Every time I turn around he's there with his dark, piercing stares and his deep, sexy voice that somehow manages to get past my defenses. I left my pack back home for a new start. The last thing I want is to get caught up in any shifter drama, no matter how sexy the package it comes wrapped up in is.
Kane is exactly the kind of man I don't want. Bossy, infuriating, insisting he knows what's best without even asking me, and so freaking hot, his ego's the size of Texas. I especially hate it when he's right. It turns out there are scarier things out there than midterms, and they're after me.
* * *
The last thing Kane's looking for is a mate – but that's exactly what his Alpha has ordered him to bring home. A very specific mate. Adding Scarlett LaRoche to the pack will cement his ties to her pack and the prophecy, which puts him one step closer to the ultimate power. But can he seduce a girl that doesn't want to be seduced?
Challenge accepted.
*** Scarlett Moon is a shifter paranormal romance with steamy sex and violence, and should not be read by those under 18. It can be read as a stand alone book, or as part of The Wolves of Cutter's Folly, and has a HEA. ***
Add it to your TBR list on Goodreads today!
http://tinyurl.com/oumtc5f