Cover reveal for The Company of Lies!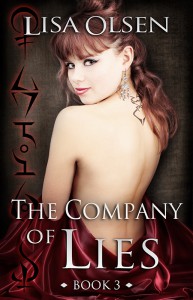 The Company of Lies is almost here!
I hope you'll join us for the upcoming release party on Facebook for The Company of Lies. It's on Tuesday, November 18th, from 1pm to 7pm PST with some great authors and book blogs, and we'll have lots of fun games and giveaways to celebrate the release of my 23rd book!
https://www.facebook.com/events/293666034167445
What do you guys think of the awesome cover by Robot Brain Design?
Here's the blurb:
Cady and Ethan are on the run from the Company, but there's no escaping the trouble they brought with them. The demon Cady was bound with isn't as dormant as they first thought, and it's desperate to be free. How many times will Cady have to wake up in strange circumstances before she realizes her life isn't her own? Crippled without his usual contacts, Ethan is desperate to hold onto Cady and find the help she needs – but is it enough? Is Rikard the one who can keep Cady safe and satisfy the demon inside her? Layer upon layer of deceit muddy the waters until it's impossible to find the right path. In the end, Cady is left with a terrible choice – submit to the Company or the demon who's taken over her life.
Haven't started The Company series yet? Book 1 – The Company of Shadows is on sale for a limited time for $.99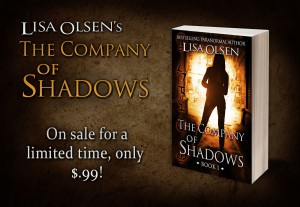 Amazon: http://www.amazon.com/dp/B00CJWU19M
Barnes & Noble: http://www.barnesandnoble.com/w/the-company-of-shadows-lisa-olsen/1115212526?ean=2940046272666
iTunes: https://itunes.apple.com/us/book/id924718257
Kobo: http://store.kobobooks.com/en-US/ebook/the-company-of-shadows-3



And if all that fun wasn't enough, I've also got my Fallen boxed set (books 1-3) on sale for $.99 for a limited time as well.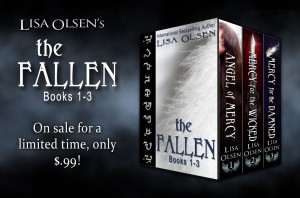 Amazon: http://www.amazon.com/dp/B00BH751IQ
iTunes: https://itunes.apple.com/us/book/id939742824
Kobo: http://store.kobobooks.com/Search/Query?fcmedia=Book&query=9781502253170