Mercy for the Fallen is here!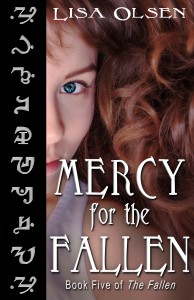 My new book is out! Mercy for the Fallen is now available for sale on Amazon and Barnes and Noble! It's out as an e-book for $3.99 but you don't have to have a Kindle or Nook to read it, they have free downloadable apps so you can read it on your PC, or even your phone. It'll be available in print as well in a few weeks through Amazon. It's been three years since Child of Mercy takes place, I can't wait for you all to read what comes next for Mercy and her friends and family. Here is the blurb:
"This isn't going to just go away, no matter what you tell yourself. The next time you're with Parker you're going to be thinking about that kiss." Adam's voice dropped, low and intimate; it caressed me as surely as any touch on my skin. "I'll go now, but this isn't over, not by a long shot."
In Book V of The Fallen, three years have passed since Mercy chose a stable life with Parker instead of fallen angel, Adamiel. Only the supernatural community isn't done with Mercy and Eve, not by a long shot. Lucifer's made it no secret that he has designs on the Child of Light, and is tired of waiting in the shadows for Eve to come of age. His interference brings Adam back to Mercy's doorstep and into her life, whether she wants him there or not. The arrival of Archangel Michael both simplifies and complicates things as we learn how many are drawn to Eve's Grace. As circumstances force Mercy to rely more and more on Adam, she wonders if people can change, even the Fallen. But even if she could admit to the long buried feelings bubbling to the surface again, can she trust Adam to learn what it is to love someone more than himself for a change?
Next up… Book 6 of the Forged Bloodlines series: Hear Me When the Sun Goes Down – don't forget to check out my contest and enter for the chance to become a character in the next book!