Trip to Olympia
We take one or two short vacations a year because I hate to travel and don't like to go too far from home. Here is a recap of our recent trip to Olympia, WA.
Day One – It's a bright, sunny day, perfect for a road trip. After an unscheduled trip to the dr's office, we're on the road only about a half hour behind schedule, not too shabby. We're off on the road to Olympia with a tank full of gas, and I'm excited to see the miles per gallon gauge go up as soon as we hit the freeway.
1st stop – we're completely derailed from our careful schedule by the lure of chilidogs at Wienerschnitzel, not even an hour into the trip. Neither one of us is particularly hungry, but we agree, it's worth the stop since it's a rare treat.
2nd stop – it's a well known fact that I have a bladder the size of a thimble. So even though I went at the last stop, we stop again in Kelso at a Target and a new theme is born. This is the week of the Avengers mini action figures. You know those little mystery figures you can buy at the store for $2.99 and you have no idea which figure you get until you open it? We decide that every time we stop at a store that carries them we're going to buy one until we get the complete set, or get bored with the premise. This stop gives us:
3rd stop – rest area. I just can't resist these stops. They're clean, there's lots of nice green grass and trees to look at if you want to stretch your legs and best of all, easy to get in and out of. Two minutes later we're back on the road.
Olympia here we are!!!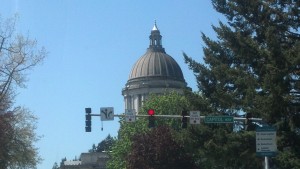 It's still about three hours before we can check in to the hotel, so we stop off for a look at Danger Room, the coolest comic book shop in town. Besides the two Serenity books we get, they have a bunch of free comic books left from Free Comic Day and we load up. Now it's on to Cascadia, where they have milkshakes so good, we have been drooling over them for a whole year since we were last there. We step up to the door and see a sign – new ownership – uh oh. It all looks the same when we get inside, but opening the menu we find there has been a complete overhaul. No more 6 kinds of french fries (the spicy fries and garlic fries were the best!) and no more specialty burgers (I liked the Sarape one which had guacamole, pepper jack cheese and enchilada sauce). Instead there are different burgers and you can even get some rare ones like buffalo burgers (as in the animal, not the hot wings sauce). The milkshakes are still fantastic, but overall, it's a disappointing trip.
Still can't check into the hotel so we stop off at Burial Grounds coffee for a mocha.
We pull into The Phoenix Inn about a half hour before check in time, but they let us in anyway with some very friendly service. We get the same room we always get, mostly because I love the bathtub out in the middle of the room. A little bit of a rest and about 1000 words for Nine Steps to Sara written and we're out to the Black Bear Diner and the tri-tip steak is so good!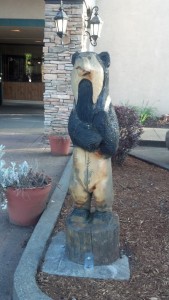 After dinner it's on to Target for another mystery figure, this time it's Tony Stark: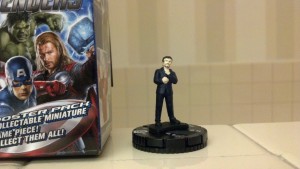 Then it's back to the room to rest and relax and unfortunately not get any more writing done. Tomorrow is the old fashioned wooden boat festival, and we're looking forward to exploring all the tents and wares!