Category Archives:
Mercy for the Damned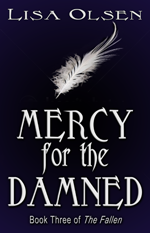 The third book of The Fallen series is now available for sale on Amazon.com

and BarnesAndNoble.com! It's out as an e-book for $3.99 but you don't have to have a Kindle or Nook to read it, they have free downloadable apps so you can read it on your PC, or even your phone. It'll be available in print as well in a couple of weeks through Amazon.
Mercy's saga continues with Mercy for the Damned, Book III of The Fallen. When a new prophecy predicts a great evil if a fallen angel is allowed to remain in Midian, Mercy will move heaven and earth to free Adam from his deal with Raum. The trouble is, it's far easier to get into Midian than it is to get out, and Adam is perfectly happy to serve out the remainder of his sentence if it keeps Mercy safe from harm. Throw in some pressure from the police who suspect Sam and Mercy of eliminating Ben, and the race is on to rescue both of them before it's too late.
In celebration of the release, I'm running a $.99 promo for the first book in the series Angel of Mercy. What else can you buy for a dollar? You can find it on Kindle or Nook.
Now I get to enjoy a four day weekend before getting back to my Push fanfic and then I'll start working on finishing my outline for Let Sleeping Ghosts Lie, a paranormal/ghost thriller.