Category Archives:
The Company of Death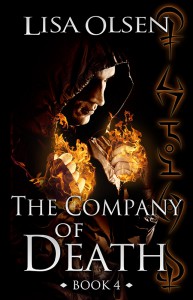 New Release
The Company of Death
Book 4 of the Company series
The final book in my Company series, The Company of Death is now available as an e-book for $3.99! We're still working on the print proof, but it should be up in a few weeks.
You can find it here:
Amazon
Barnes & Noble
iTunes
Kobo
Here's a little teaser: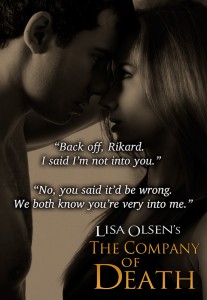 And here is the blurb:
Working side by side with Ethan for the Company, access to magic and developing her own skills as an Adept – Cady should have everything she's ever wanted, right? But can she trust Ethan when Beau won't stay buried in the past? When a freak accident releases four demons, including the one she shares an intimate connection with, Cady must rely on her new training to fight the good fight when Ethan's loyalty is called into question. With the threat of Ash on the horizon, Rikard is more than eager to lend a hand – and any other part of his anatomy. Who will Cady choose to fight by her side, and who will she keep in her heart?
To help celebrate the new release, the first e-book in the series, The Company of Shadows is currently FREE everywhere it's sold, so if you've been waiting to start this series, now's a great time to try it!
You can find it here:
Amazon
Barnes & Noble
iTunes
Kobo
Here's a taste of The Company of Death:
Cady was still arranging her covers when Rikard stripped down to his boxers and started to get into the other side of the bed. "What do you think you're doing?"
"Getting some sleep."
"The couch pulls out into a bed."
"Have you ever slept in one of those pull out beds before? No thanks," he snorted.
"Fine, then I will." Two could play at that game.
Rikard rolled over onto his side, his chest exposed as he faced her. "I've really gotten to you, haven't I?"
"What're you talking about?" Cady scowled, trying to decide if she wanted to steal the comforter or just the pillows for the couch.
"You can't even trust yourself to lie next to me?"
"It's not me I don't trust."
"What do you think I'm going to do while you're asleep?"
Cady looked up at him, barely able to make out his features in the dim light. "I don't know, that's the point."
"What if I swear upon my honor not to lay a hand on you?"
"It's not your hands I'm worried about."
His teeth flashed white as he laughed. "Stay or go as you choose, but I promise, I'll behave."
Cady lingered, unsure what to do. He had a point, she wasn't sure she trusted herself around him. Her judgment tended to fly out the window whenever he removed his shirt. "Fine, but you have to stay on your side of the bed."
"No problem. But feel free to come and visit all you like."
"Fat chance of that," she scoffed, settling in beside him. The room seemed oppressively quiet after that, with nothing but the sounds of their breathing and the faint murmur of the highway outside the window. Gradually, she started to relax though, his deep breathing having a soothing effect on her.
"Goodnight, John," she sighed, rolling over onto her stomach.
"Goodnight, Cady," he replied, and she could feel him smiling in the dark.
One-click it today!
Amazon
Barnes & Noble
iTunes
Kobo
Next up, I'm working on Kiss Me When the Sun Goes Down, book 10 in Forged Bloodlines, my vampire series. I expect to release it sometime this summer, as I'm also working on adapting the first book in the series for Episode.