Cover Reveal for The Company of Death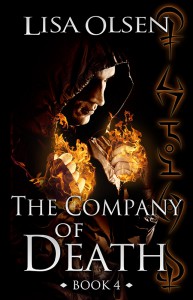 You guys ready to see the cover for Book 4, The Company of Death?
Here's the Blurb:
Working side by side with Ethan for the Company, access to magic and developing her own skills as an Adept – Cady should have everything she's ever wanted, right? But can she trust Ethan when Beau won't stay buried in the past? When a freak accident releases four demons, including the one she shares an intimate connection with, Cady must rely on her new training to fight the good fight when Ethan's loyalty is called into question. With the threat of Ash on the horizon, Rikard is more than eager to lend a hand – and any other part of his anatomy. Who will Cady choose to fight by her side, and who will she keep in her heart?
Add it to your TBR list today! If all goes well, it'll be out by Monday.
https://www.goodreads.com/…/s…/25370883-the-company-of-death