Name That Baby!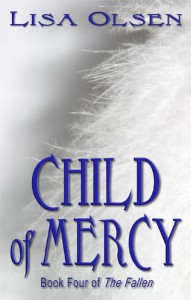 Spoiler alert! (don't read on if you don't want to know a little something about the bun in Mercy's oven)
Hey guys, I'm having the hardest time naming Mercy's baby. The first draft is done and it literally says *insert name here* whenever she's mentioned. Oh yeah, that's my spoiler, the baby is a girl! I've gone through a list of possibles, but nothing's grabbing me. Ideally I'd like a name that is also a word (like Mercy) so I could possibly use it in titles in the future. The obvious ones like Hope, Faith and Grace come to mind, but too obvious I think.
So, here's where you come in. I'm taking suggestions for baby names. If I go with your suggestion (you must be the first one to suggest it if there are multiples), you get a signed copy of the book when it's out and a shout out in the acknowledgments.