Release Me When the Sun Goes Down is out in Print!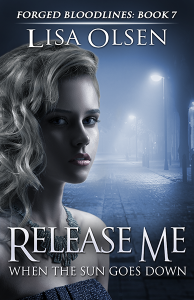 Release Me When the Sun Goes Down is now out in print! So, for all you out there who prefer to hold the physical book in your hands (and it's very pretty!), you can buy it on Amazon.com here.
In other news… I've at last found a name for the sequel to Pretty Witches All in a Row – Kiss the Witch Goodbye. So far I'm about 13K into the story, we're looking at a release some time in July. Here's the blurb.
A visit from his past conjures trouble between Sgt. Nick Gibson and his pretty witch, Annaliese, as he tries to balance police work with premonition.
Kiss the Witch Goodbye draws us into the gritty world of rock with a local band that's hit it big. But with fame comes misfortune, as someone is killing their fans and the evidence points to lead singer, Jax May. Ready to defend her old boyfriend with her last breath, Annaliese champions Jax's innocence – despite the fact that he's experiencing frightening blackouts and missing time. FBI Agent Natalie Fox is closer to the case than she'd like to let on, and does her best to convince Nick of the singer's guilt.
Is Jax simply a local boy made good or a vicious killer?
Will Nick choose cold hard facts or rely on his instincts to guide him to the truth? Will Annaliese be able to use her special talents to prove Jax innocent and find the real killer before it's too late? As more victims surface, the truth might be darker than either of them believe possible.