The Fallen books 1-3 now available as a boxed set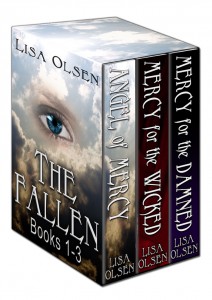 The Fallen books 1-3 are now available as a boxed set for your kindle. I've never done a boxed set before, but it looks awful spiffy doesn't it? (thanks James for the lovely pic, as usual!) Easy to navigate between books from the table of contents, this set contains Angel of Mercy, Mercy for the Wicked, Mercy for the Damned, deleted scenes form Mercy for the Damned and a preview of Child of Mercy. It can be found here on Amazon.com for $7.99.
In other news, I'm already deep in planning for my next book which I hope to begin in early March. It's a stand alone novel about a demon hunter and his too-curious-for-her-own-good neighbor. It's got sexy demons, magic, missing girls, a brooding hero with a dark secret, intrigue, body switching, mythology, tattoos, cheese whiz, you name it. I'm thinking of calling it In Darkness Bound or Let Darkness Bind Them.
Psst – Nine Steps to Sara is also free today on Kindle.