Category Archives:
Mercy for the Wicked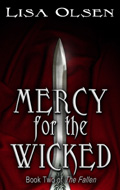 Again it only took about a month after it was released as an ebook but it's available to purchase through Amazon.com.
So, to celebrate, here's another excerpt from the book that takes place when Mercy hears the call of Gabriel's horn and sits in on an Angel Jamboree.
---
With a little wave to Daphne to let her know I'd arrived safely, I started into the trees, the call even stronger on that side of the water, even though I couldn't hear the actual horn anymore. The island itself wasn't huge, and I didn't see any structures on it or a dock for boats to tie up there. The trees were dense though, and I had to pick my way carefully through the underbrush as there were no trails to follow.
A rush of air was my only warning as Sam landed beside me. "What are you doing here?" I asked automatically, though I could guess he'd heard the same call as I did.
"I could ask you the same question," he replied, his voice hushed as he looked around carefully.
"I heard that sound, like a horn calling me, so I came to check it out. It's an angel thing, isn't it?"
"You heard that?" he blinked. "Nevermind. Go home, Mercy. You don't belong here." Sam strode away from me at a brisk pace.
Like I was gonna turn around and head for home. He should have known me much better than that. I chased after him, knowing instinctively that he was headed in the right direction. "What is it? A meeting of the Fallen Angels Club and I can't come?"
"Not fallen angels," he said shortly and I could understand why he was so tense. This was a meeting of the big boys, and I was strictly persona non grata with them.
"So what are you doing here then?" He didn't seem like the type to flaunt the rules.
"I am not joining them; I am merely trying to…"
"You're spying!" I hissed back at him, tickled beyond belief to find he wasn't above something petty like that, and a flush of color stole up the side of his face.