Dreamcasting – Mercy for the Wicked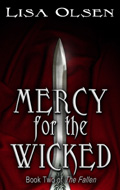 Because I love visualizing who would be cast in a movie version of my books and I think it's fun to share, here is my dream casting of who would play everybody in Mercy for the Wicked.








The main players stay the same:
Mercy – Amelia Warner – a pretty obscure British actress who I think is beautiful and spirited.




Sam – a younger Jude Law, pre-Talented Mr. Ripley. I came across a couple of pictures of him taken by the paparazzi and he was a little ruffled and baffled looking, it really caught that part of Sam's clueless personality.



Adam – Ian Somerhalder because let's face it, he could play this character in his sleep and he's just a sexy beast.




Ben – Mark Rufalo – he has that every guy quality that's easy to overlook sometimes, but he can be so charming!




Parker – Bradley Cooper – because he can play an ass and still be pretty to look at.




Matty – Justin Long – I think he could pull off the slacker brother so well.





Daphne – Amanda Seyfried – with that long blonde hair and blue eyes, she has that wide eyed innocence that I associate with Daphne




Nathanael – Matthew McFadyen (go see him in Pride and Prejudice as Mr. Darcy) – He has the intensity to look really pious and thunderous..




This time around we have some new characters:
Azazael – Orlando Bloom a la Pirates of the Carribean. He's a good looking guy, but I dunno, something about him makes me want to smack him.




Raziel – Oded Fehr like from The Mummy days, but no facial tattoos. Or possibly from Deuce Bigalow male gigolo.




Raum – Christopher Eccleston, like he was in Dr. Who. Just kinda jazzed about life, even when things are going to shit.




Gabriel – Eric Bana, because he can communicate a lot with just his eyes.





Ubel – Kevin Durand Wouldn't he make an outstanding demon with big, sharp, nasty, pointy teeth?




Bert – Mackenzie Crook from Pirates of the Carribean.





Hubie – Lee Arenberg also from Pirates of the Carribean, okay so I have no idea why I have so many people from Pirates of the Carribean in this one, it just worked out that way!




And of course…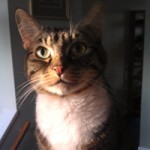 Mimsy – one of my own cats! Because she's so cute and curious and her squeaky sounds are like nothing I've heard from a cat before.