Vote for Cover Art – Pretty Witches All in a Row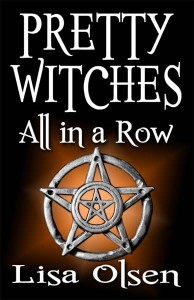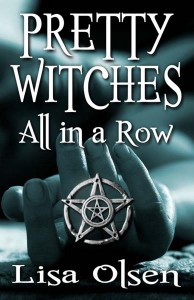 It's that time again to give me your thoughts and feedback on the cover art for my new book coming out in October, Pretty Witches All in a Row. Anyone who comments on the covers on the website will be automatically entered for a chance to win a copy of one of my books (your choice of books). We'd also love to hear constructive criticism and ideas for how to improve them if you have any suggestions. Please keep in mind that they have to be not only eye-catching, but easy to identify when much smaller in ads and for sale on websites.
Here is a little blurb of what the book is about:
Someone is picking off a coven of witches one by one. Can Sgt. Nick Gibson and his team of detectives catch the killer before he loses the pretty witch who's got him under her spell? Nick must cast aside his disbelief and delve into the world of the supernatural to solve the case. On hand to help is Annaliese, a member of the coven who claims to have had a prophetic dream at the exact time of each victim's death, offering clues to the identity of the killer. Can he accept the 'proof' offered by unconventional means or is she deliberately leading him astray to hide her own secrets? To cloud the issue, a local evangelist is telling anyone who asks that the victims had it coming. Is religious mania the motive for murder, or is it something more personal?