Category Archives:
Nine Steps to Sara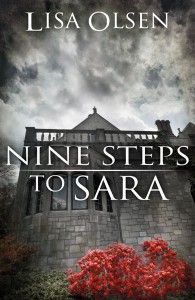 Nine Steps to Sara is coming along well, and I've only got one more scene to write before the grand finale. Here is the proposed cover art (thanks Cap'n for the design!) for the book. I thought I'd share a little taste from chapter one. Please keep in mind that this is a rough draft and not the polished final version.

*****
"Repeat after me, I am Sara J Darling; millionaire. I own a mansion and a yacht."
The corner of Sara's mouth tilted up into a faint smile as she conjured images of Elmer Fudd going through psychoanalysis to cure him of his rabbitosis. "I don't own a yacht."
"You could own a yacht…" Joanie's green eyes darted to the dark window for a brief squint before they returned to regard Sara steadily. "You don't know."
"That's true, I suppose," Sara allowed, leaning back against the supple leather seats of the chauffeured Mercedes. Despite the fact that the car was at least thirty years old by the body style, it'd obviously been kept in mint condition and still impressed the hell out of her. It was the first time she'd ridden in a car that cost more than her college education and for sure was the first time she'd been driven around in the back seat unless she counted the time she took a cab to the hospital on the night Jack was born (but somehow, she didn't think that fell into quite the same category).
Joanie had a good point though, she had very little understanding of her inheritance so far, only that it was big enough to earn her a plane ride and an all expense paid trip to England in style, and there was a manor house somewhere in the countryside with a family history she knew nothing about. After the year she'd had, it hadn't taken more than thirty seconds to decide to go check it out, especially when her best friend offered to come along for the ride. Still, Joanie's excited speculation had spilled into the ridiculous after so many hours spent traveling.
"Why would I have a yacht? It's a land locked estate." Probably. There could be a lake, she supposed. If she hadn't been so excited to get the heck out of town, she might have asked a few more questions. As it was, she had a vague sense that the estate was somewhere in the south, but that was about it.
Joanie waved her hand back and forth, unconcerned with logic. "So? England is basically an island. It's like a nothing commute to get to the water."
A snort came from the front seat, and Sara looked up to catch a flash of the driver's grin. "I'm not too sure about that," she murmured, looking out the window, but she couldn't penetrate the gloomy fog apart from the occasional glimpse of an empty paddock or a copse of dark trees. "We've been driving an awful long time."
"You're telling me, I shouldn't have had those drinks on the train," Joanie muttered, shifting in her seat. "Excuse me, driver?" she leaned forward, bright auburn hair glowing as it caught in the dashboard lights. "How much longer is this gonna take?"
"Just until we arrive, Miss."