Vote For Cover Art – Wake Me When the Sun Goes Down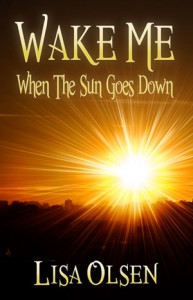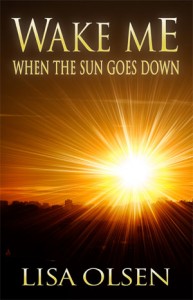 It's that time again to give me your thoughts and feedback on the cover art for my new book coming out this month, Wake Me When the Sun Goes Down. Anyone who comments on the covers on the website will be automatically entered for a chance to win a copy of one of my books (your choice of books). This time I was able to narrow it to a picture I liked, but I'm still trying to decide on the font. I'd also love to hear constructive criticism and ideas for how to improve them if you have any suggestions. Please keep in mind that they have to be not only eye-catching, but easy to identify when much smaller in ads and for sale on websites.
Here is a little blurb of what the book is about:
"It was ironic that this happened to me; I was never a night person at heart. So you can see right off the bat why a vampire was the very last thing I would have chosen to be."
Anja Evans wakes up in the morgue with a helluva hangover. She chalks it up to a strange brush with death and gets back to her life as a music student in San Francisco. It takes almost eating her best friend before she figures out… she's a vampire. When a dark and dangerous vampire shows up at her door asking to see her license and registration, Anja assumes Bishop is a regular cop. But breeding among vampires is strictly controlled, and her unlicensed status makes her an enemy of The Order. Struggling to find a balance between her former life and her undead one, Anja tries to blend school and living up to her new identity, all while searching to find the elusive Viking whose blood gave Anja the strength of a vampire hundreds of years old.